Donate Furniture
We collect gently used household goods and furniture to furnish homes for families overcoming housing insecurity.
Donate to furnish a new start today!
Flourish Furniture Bank furnishes hundreds of homes each year entirely through donations from the community. By donating your gently used home furnishings, you ensure your belongings stay out of the landfill and continue to bring joy and meaning to a family's home.
Drop Off
Donations can be dropped off at our warehouse (11971 Grandview Road, Suite A) Tuesday through Saturday from 9 am–12 pm.
Pickup
Pickup requests are currently handled by our partner, ReSupply, a fast and professional moving service run by KC Junk Company. Our volunteer-run home pickup service will be returning this fall.
Mattresses (no stains or damage and less than 10 years old)

Box springs, bed frames, and head/footboards

Dressers, armoires, night stands, and end tables

Desks and bookshelves

Sofas, recliners, upholstered chairs, rocking chairs, and ottomans

Dining room tables, chairs, and bar stools

Pots and pans, bakeware, glassware, dishware, and utensils

Small cooking appliances and microwaves

Vacuums, irons & ironing boards, and cleaning tools

Lamps

Area rugs, floor mats, and curtains

Mirrors, artwork, and decor

Televisions (must be less than 32″ and no rear projection)

Bed, kitchen & bath linens
Sofas over 7' in width or hide-a-beds over 6' in width

Armoires, desks, entertainment centers, curios, china cabinets, bookshelves over 4' in width

Waterbeds, cribs & Sleep Number beds

Glass tables

Broken dishware/glassware

Dressers/buffets/wood pieces over 6′ in width

CRT TVs over 32" or those with rear projection

Cabinetry/light fixtures/ceiling fans

Baby items (including cribs)

Flammables, propane tanks, paint, open containers

Furniture with tears, stains, pet hair/damage

Holiday decor (including Christmas)

Large appliances (washers, dryers, etc)

Unframed mirrors/empty picture frames

Pet items

Pianos/organs/keyboards

Books

Exercise machines, game tables, and bikes/scooters
If you don't have unused household goods, check out our Walmart and Amazon Wishlists. They are always updated to reflect the current needs of Flourish and filled with the best deals! These items include small appliances, lamps, dressers, and more that don't get donated as often.
What happens to my donation?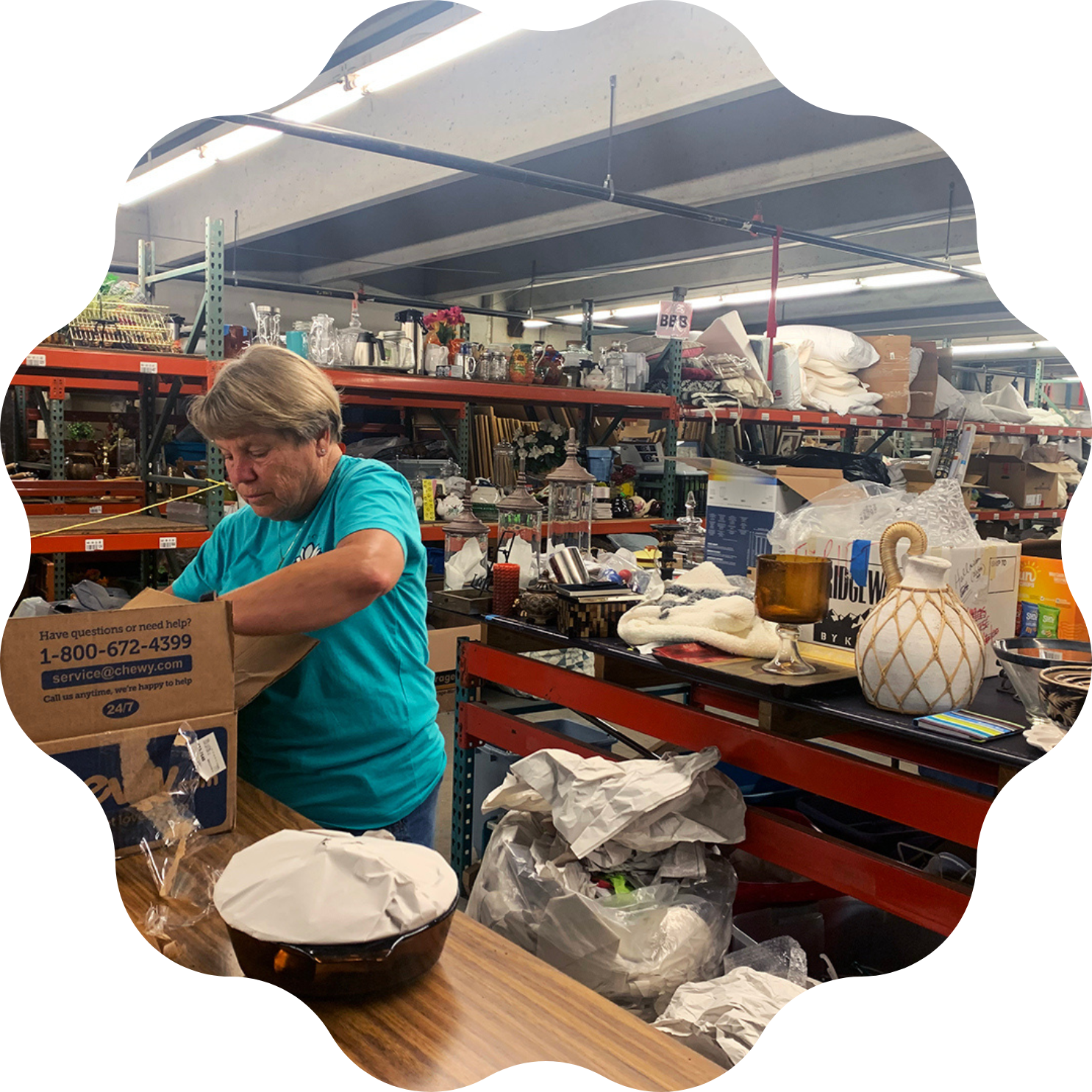 Processing
First, items are carefully moved, organized, and stored by our Sorting and Moving Teams. Donations are separated by type and relocated to a specialized volunteer department.
 Anything you can do to help us with this step is appreciated! Your labeling, packaging, and delivery of donations can make our volunteers' jobs much quicker, allowing us to move more donations through our warehouse and out into the community.
Refurbishing
Behind the scenes, seven essential volunteer teams clean, repair, refurbish, and package all the donations we receive.
Woodshop
Sewing
Upholstery
Electrical
Sorting
Beds
Dish Packing
Thanks to their dedicated efforts, we upcycle more than 200 tons of gently used furniture and home goods each year, making an lasting impact for the environment and the community.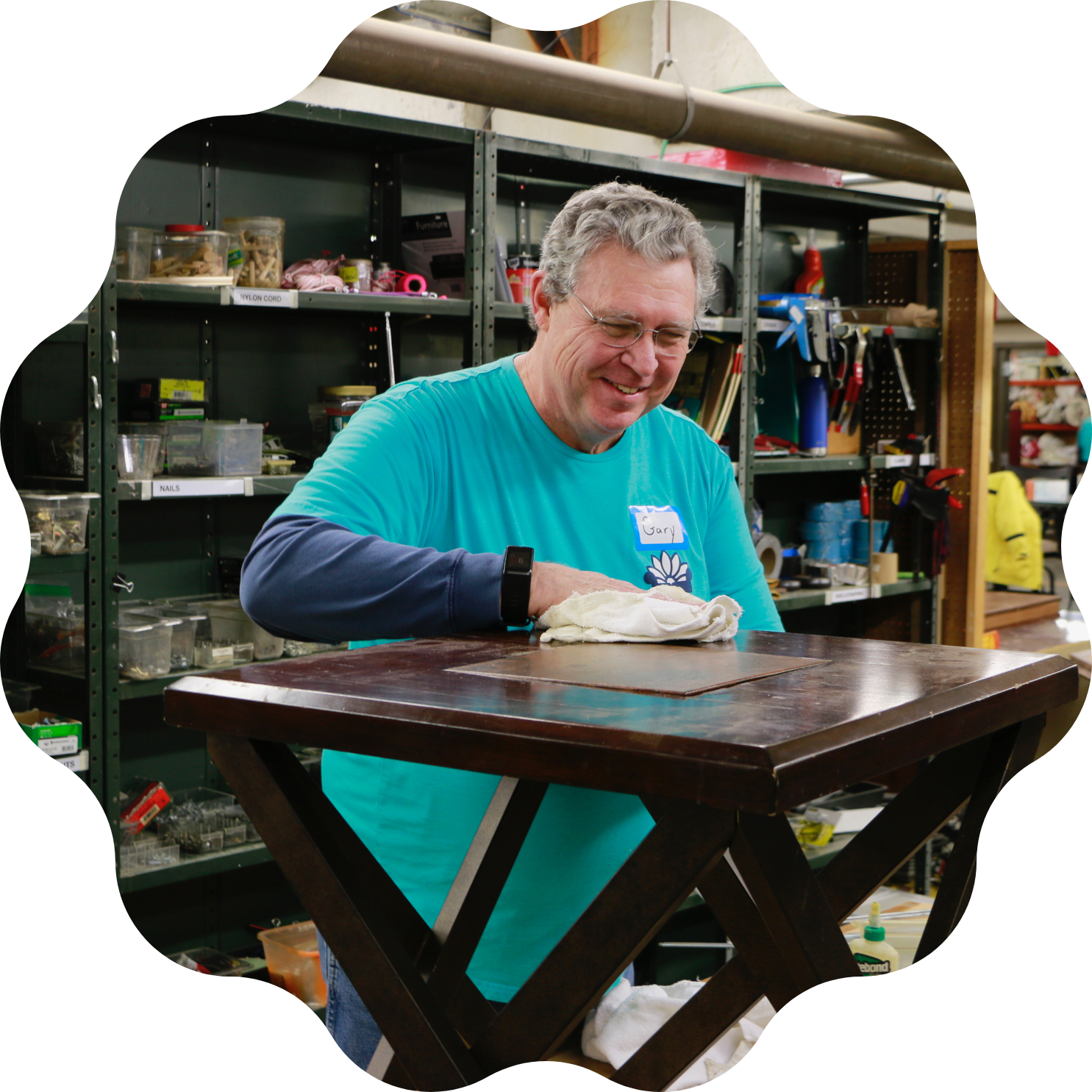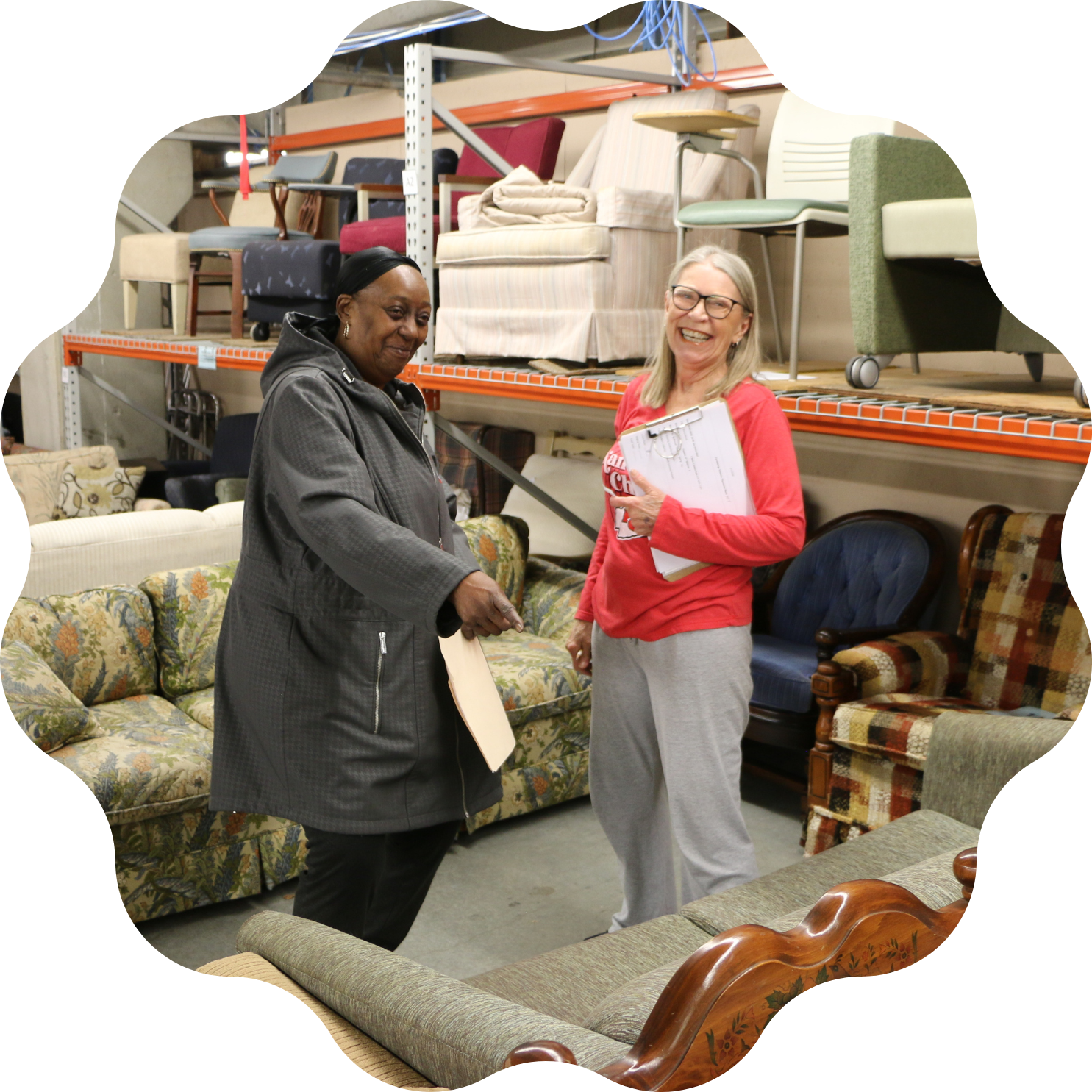 Shopping
After items are processed, they're moved out into our showroom floor. This is where our guests choose everything they need to furnish their home. Sorting and Moving volunteers maintain this area to create the dignified atmosphere of a furniture store. By displaying items in organized categories and neat packages, our goal is to ensure our guests have a calm, joyous experience shaping their new space.
Our highest priority is that our guests are empowered to choose beautiful, durable, and high-quality items to fill their homes. We make sure they can choose not only major pieces like sofas, tables, and beds, but the little things too – the artwork, decor, linens, and supplies that make a space both functional and personal.
Going Home
Guests are assigned a team to help transport items from the showroom to their moving vehicle. A Showroom Host helps navigate the showroom, explaining item limits, assembly instructions, and other important information. Packers box and cushion household items, while a team of Loaders move large items directly into the truck.
After that, our guests and their case managers coordinate the move from our warehouse to their home. Aside from moving costs, our service is completely free to the families we serve. By directly placing items in the homes of families, we ensure donated furniture and home goods continue to make an impact by bringing joy and comfort to homes across Kansas City.